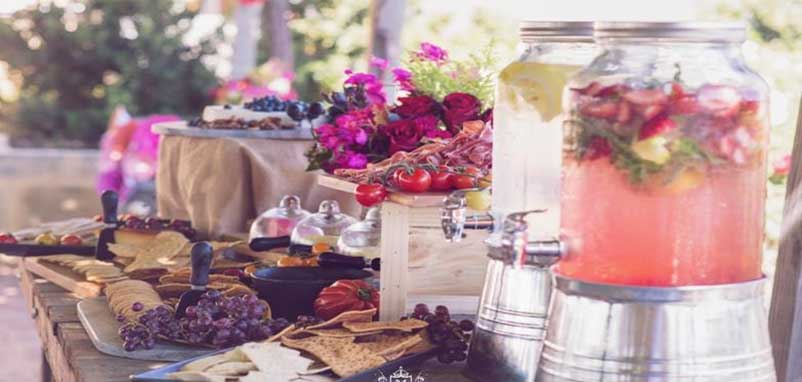 The below menus represent a variety of dishes our chefs can produce for your Perth or South West event.
We understand that every event is unique, that's why we don't have standard, fixed price packages.
We love creating bespoke menus, and encourage our clients to create a custom menu by drawing inspiration from dishes on our example menus,  as well as their own favourites.
Our chefs are able to tailor menus to suit any dietary requirements- our wealth of experience means we can be flexible when it comes to catering to the needs of your guests.
Get in touch and chat to us about your event, and our team will put together a tailored menu to perfectly suit your tastes, style and budget.
We have an extensive range of delicious canapes your guests will love.
Whether you are serving roaming canapes as a prelude to your banquet or three course meal, or making them your main event, a canape menu is an excellent choice for private and corporate events.
Our extensive bite size options, including a selection of slightly larger bowl bites, offers a large variety to your guests.  Our standard serving sizes mean that your guests are also generously looked after
A beautifully plated three course menu creates a wonderful sense of intimacy and occasion, allowing guests to converse uninterrupted with their neighbour while our wait staff slip another delicious dish in front of them.
We are fully self sufficient, meaning we can produce beautiful food no matter how many guests or where your event is held.  Dreaming of an elegant long table dinner amongst vineyards or a garden party in your favorite park? No problems.
Grazing tables are ideal for larger functions, encouraging a casual, laid back vibe and allowing your guests the chance to move around.
Our styled grazing tables are always abundant and add a beautiful visual feature to your event- we can supply and source all vessels, platters and tables if required, to all of Perth and surrounding areas. We love working with our clients to understand the vision for their event and create a board to complement.
Lavish grazing tables are all about good quality produce- overflowing with local and imported cured meats, cheeses, house made dips and chutneys, seasonal fruit, chargrilled vegetables and fresh baked breads.
Love the look and feel of a grazing table but want a more substantial spread?  Our chefs can intermittently refresh your table throughout the event with gourmet salads, deliciously slow cooked roast meats and desserts.
Food stations are a wonderful way to introduce a little theatre to your event.  Perfect for achieving a relaxed festival vibe at corporate functions, weddings and large events, food stations allow your guests to choose from a variety of dishes and cuisines at a time that suits them… no need for multiple food vans.
Imagine Asian noodles being tossed in the wok, the scent of saffron filled paella filling the air, and a selection of American style pulled pork and 'slaw sliders…the biggest problem is knowing where to start!
One of our favorite trends of this season, shared plate dining is what we are all about – informal, relaxed dining with a variety of delicious options.
The tradition of 'breaking bread' is the ultimate way to connect,  and what better way to make new acquaintances or celebrate with family than to share in rustic, hearty dishes?
Gone are the days of 'chicken or beef' at weddings and events, banquet dining allows your guests to eat like kings and feel like family.
No matter what the occasion, it's hard to beat a good old fashioned barbeque- particularly when it's stylish and sophisticated.
Take advantage of Perth's beautiful weather for your next corporate event or private party and offer your guests a selection of premium quality steaks, gourmet sausages and fresh seafood.  Nothing beats the smell of barbequed onions wafting above the crowd!