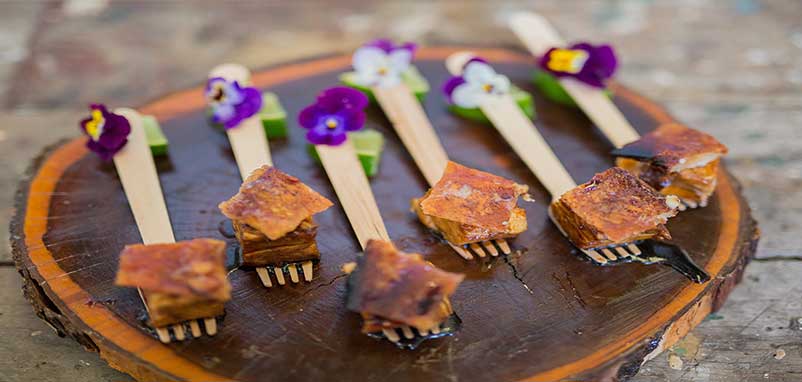 1. Full payment is required 14 days prior to your function. Methods of payment are stated on your invoice. We do not offer an account facility.
2. A deposit may be required to secure your booking. The deposit shall apply against the total invoice.
3. To secure your booking, Acclaimed Catering require a signed copy of these terms and conditions
4. Booking Form signatory is held as the wholly responsible entity for the event that is being book. However, if the signatory is acting on behalf of a registered business or company that entity shall be ultimately responsible unless it dissolves or is liquidated, in which case the initial Booking Form signatory shall be responsible.
5. Confirmation of minimum numbers are required in writing 14 (fourteen) days prior to your function. If final numbers are not received 14 (fourteen) days prior to the booked event, the numbers stated on the Booking Form will be taken as 'final numbers', and catering and billing will be supplied according to these amounts.
6. Confirmation of menu is required in writing 14 (fourteen) days prior to your function
7. Special dietary requirements must be notified 14 (fourteen) days before the booked event.
8. If the number of guests at your function is greater than the amount of guests confirmed, payment for extra guests will be required on the day of the event via credit card details or cash
9. Quotes are based on minimum guest numbers. Should you guest numbers fall below those quoted we reserve the right to adjust prices accordingly.
10. Acclaimed Catering reserves the right to decline its services to any function that is not confirmed
11. Clients are responsible for any costs associated with loss, theft, damage or breakages of Acclaimed Catering equipment on loan and in use at functions. This includes the removal of catering equipment from the event. Loss, theft, damages and breakages will be chargeable to the client for full replacement value.
12. Acclaimed Catering does not accept responsibility for damage to or loss of goods left on the premises prior to, during or after a function. You (Booking Form signatory) agree to accept financial responsibility for any damage sustained to property prior to, during or after the function that occurs as a result of actions by your guests or outside contracted by you
13. Due to product availability, quality and unforeseen market price fluctuations, prices are subject to change without notice (except for events for which a contract has been executed). We will make every effort to provide the exact product ordered, however, product availability and/or product quality may affect this at times. Where possible we will notify the client in advance of any necessary menu substitutions
14. The management of Acclaimed Catering take all reasonable precautions to fulfil our 'due diligence' responsibilities of providing safe food to our customers. Acclaimed Catering operates under a Food Safety Program, which ensures that each process is systematically analysed. Potential problems are identified and sufficient controls are put in place to reduce or eliminate risks.
15. Acclaimed Catering will not be held liable for the health and safety of our customers for any food removed from the venue or consumed more than sixty minutes after the specified service time.
16. When we are on location to serve food, we usually carry more than we expect to serve. When offsite for a long period of time, we have extended food temperatures and holding conditions to a point that we will not release leftover food to you or your guests. We trust you will co-operate.
17. No event will be permitted to run over the time agreed upon without Caterer's approval. Caterer reserves the right to make reasonable additional charges for events running beyond the time agreed upon.
18. When the client wants to supply any food at a function, the client must secure approval of Acclaimed Catering before such food will be allowed to be served and Acclaimed Catering will not be held liable for the health and safety of guests that have consumed food supplied by the client.
19. Acclaimed Catering shall have no responsibility or liability for failure to supply any services when prevented from doings so by strikes, accidents or any cause beyond our control, or by orders of any governmental authority.
20. A 15% surcharge on your total account is applicable for all Public Holidays and New Years Eve.